About Us
Papaya Thai is located at Shop 3/506-508 Miller Street, Cammeray 2062 and at 309 Military Road, Cremorne 2090. We only serve the most delicious and sumptuous Thai Dishes that will certainly bring your senses to Thailand. By clicking that Order Online button, you can take advantage of a hassle free pickup and delivery services straight to your doorsteps. Try our Curry Puffs, Pad Thai, Tung Tong and Po Piah Sod. You will surely fall in love with our Tom Yum Koong, Tom Kha Kai, Pu Nim Tod Krob and many more. Finally, complete your Thai meal experience with our Pad Pak, Kaeng Tae-po and Larb Ped. What are you waiting for? Click that Order Online button now!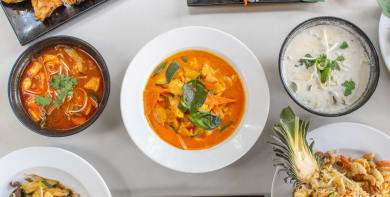 Reviews
129 reviews
Lucy
"Thank you the dinner was lovely and delivered on time by a very pleasant deliverer."
8/04/2021
michael
"Great food Great delivery Always the best Thai"
1/04/2021
Menu
Kaeng Kari Kai (Chicken Only)
Whole chicken Maryland leg is coated with a turmeric curry, then slow cooked with whole onions, baby potatoes in an aromatic yellow curry with coconut milk, topped with crispy chopped garlic and served with cucumber dipping sauce (ar-jard).
$15.90
Panang Curry
Always a favorite, this warming curry with its full body is perfectly served with seasonal vegetables, chopped kaffir lime leaves, long red chillies and baby corn best with beef but chicken is available on request.
$14.90
Massamun Neua (Beef Only)
Traditional braising of beef with coconut milk, onion and served with baby potatoes in a spiced massaman curry, sprinkled with cashew nuts and fried red onions.
$15.90
Green Curry
The fragrant green curry served with baby corn, Thai apple eggplants, bamboo shoots, ka-chai and sweet basil.
$14.90
Pad Cha Talay
A delicious assortment of fresh king prawns, scallops, fish, mussels and squid, stir-fried and flavoured in a tangy-spice sauce made from kha-chai, peppercorns, kaffir lime leaves and sheared lemongrass, holy basil, galangal, garlic, and fired up with our special home-made chilli sauce.
$23.90
Larb Ped
this popular dish of north eastern Thailand uses chopped roast duck tossed with finely sliced red onion, mint leaves, Thai parsley, sliced shallots and a chilli lemon dressing sprinkled with roasted rice
$17.90
Yum Talay
fabulous meal from the people in the east of Thailand – grilled fresh water scampi, blanched calamari rings, fish fillets, prawns, mussels and scallops topped with a traditional Thai salad
$23.90
Kao Pad Sub-Pra-Rod
special Thai fried rice with king prawns, chicken and crab meat with peas, diced carrot, sliced onion and pieces of pineapple
$16.90
Kae Katiem
marinated lamb cutlets with herbs and fragrant cloves and sesame oil served with seasonal vegetables stir-fried in a garlic and pepper sauce
$18.90
Pad Pak
good for your health dish; green vegetables, crushed garlic, tofu, cashew nut, shiitake mushrooms and baby corn stirred together in oyster sauce and topped with fried red onions
$13.90
Kaeng Phed Ped Yang
This highly spiced red curry highlights the boneless roast duck in chilli red curry.
$17.90
Pla Sam Ros
deep fried whole barramundi dressed with sweet chilli sauce, tamarind sauce, kaffir lime leaves, chopped long chilli and basil topped with fried enoki mushrooms served on a bed of lightly stir-fried bok choy
$29.90
Ped Nam Bouy
tender roast duck served with shiitake mushrooms, bok choy and dressed with a light plum sauce, spiced with garlic, cinnamon and star anise
$24.90
Lemon Squash/ Lemonade - Can
$3.00
Kai Yang Ka-Ti-Sod
tender chicken strips are marinated with traditional Thai herbs, lightly grilled and then tossed in a light coconut sauce and served with a chilli dipping sauce and sticky rice
$15.90
Pu Nim Tod Krob
battered soft shell crab, lightly fried and served with crunchy wonton skins, sprinkled with fried garlic and crunchy seaweed
$15.90
Neua Yang
grilled marinated beef, thinly sliced, served with nam jim jaew (Thai chilli dip) and sticky rice
$15.90
Moo Ping
a delight created on the streets of Bangkok, grilled marinated pork is skewered and served with nam jim jaew (Thai chilli dip) and sticky rice
$15.90
Pad Sweet Chilli Jam
Stir-fried flat rice noodles with chilli jam, roasted chilli and dressed with cashew nuts and egg.
$14.90
Pad Se-Ew
Stir-fried flat rice noodles in a dark soy, oyster sauce with the aromatic freshly ground white pepper.
$14.90
Pad Thai
The flavour of Thailand's classic stir fry with roasted cashew nuts and authentic chilli jam which is unique to Thai cuisine.
$14.90
Pad Kee Mao
Stir-fried flat rice noodles with heated chilli, garlic and fragrant basil leaves.
$14.90
Pad Ku-Ae Teaw
A famous street food found in central Thailand, this delicious sweet soy is a stir-fry with flat rice noodles, and crispy bean spouts.
$14.90
Pad Sweet Coconut Milk Chilli Basil Noodle
Flat rice noodles and chicken stirred with homemade creamy sweet chilli sauce topped with a heap of lightly fried basil leaves.
$14.90
Garlic and Pepper Sauce
A healthy dose of goodness, this stir-fry has a soy and oyster sauce base and highlights of fragrant garlic and cracked peppercorns.
$14.90
Tamarind Sauce
A homemade sweet tamarind juice is stir-fried with seasonal vegetables and sprinkled with fried red onion.
$14.90
Cashew Nut Sauce
The flavour of Thailand's classic stir fry with roasted cashew nuts and authentic chilli jam which is unique to Thai cuisine.
$14.90
Ginger and Shallot Sauce
Ginger has always been considered a powerful aphrodisiac in Thailand, this delicate combination stir-fry with shredded ginger is no exception.
$14.90
Sweet Coconut Milk and Chilli Basil Sauce
Home made of soya beans, crushed garlic, coriander root simmered in creamy coconut milk.
$14.90
Lime Leaves and Peppercorns
Stir fired combination of fragrant garlic, chilli, lime leaves and peppercorns in oyster sauce.
$14.90
Chilli Basil Sauce
Stir-fried fresh long red and sharp chillies with crushed garlic combined with fragrant holy basil leaves.
$14.90
Satay Sauce
Originally from the south of Thailand, satay's are universally popular with a stir-fried peanut sauce and Thai aromatic spices.
$14.90
Yum Hua Plee
banana flower salad with king prawns tossed with shredded kaffir lime, mint, chilli lemongrass, dried shrimp, and drizzled with coconut milk and chilli jam dressing
$18.90
Som Tum
this north eastern Thai papaya salad is a classic. created with shredded green papaya tossed with dried shrimps, cherry tomatoes and peanuts drizzled with lemon juice dressing. the salad is pounded in mortar, served with sticky rice and a choice of kai yang, moo ping, or neua yang
$17.90
Yum Neua
grilled marinated beef tossed with sliced apple eggplant, mint, coriander leaves, shallots, red onion, together with chilli-lime dressing, sprinkled with roasted rice and fried garlic
$16.90
Yum Ped
grilled roast duck tossed with lemongrass, coriander leaves, shallots, red onion, chilli, sliced cucumber and carrot ribbons drizzled with chilli jam and coconut sauce
$17.90
Tom Kha Kai
tender chicken breast and oyster mushrooms are poached gently in a mild coconut broth flavoured with cherry tomatoes, galangal, and a touch of roasted chilli jam
$9.90
Tom Yum Koong
king prawns and oyster mushrooms are served in this spicy-zesty broth, flavoured with roast chilli paste, lemongrass, kaffir lime leaves and lemon juice
$12.90
Fish Cake
Bite into blissful cushions. Made with a mix of fish, Thai herbs, and spices. Lightly floured and pan fried, served with sweet chilli sauce.
$9.90
Tung Tong (4 Money Bags)
created in the royal kitchens of Thailand, these 'bags-of-gold' are a lovely contrast of the crispy fried pastry and the soft filling of chicken, crab meat, crushed peanuts, green peas and corn. served with a plum sauce
$6.90
Curry Puff (4 Pieces)
totally vegetarian, fresh vegetables are chopped and mixed with a fragrant curry sauce, then wrapped in puff pastry and lightly fried, served with a sweet chilli dipping sauce
$6.90
Po Piah Sod (2 Pieces)
prawns, crab meat, marinated tofu wrapped with pastry served with homemade Thai sauce
$5.90
Kai Satay
a popular snack of southern Thailand, grilled marinated chicken breast on skewers, served with peanut sauce and cucumber relish
$6.90
Po Piah Koong Ped Tod (6 Pieces)
a popular Thai appetizer, these parcels of golden crispy pastry are filled with chopped prawns and roast duck, slices of black fungi, vermicelli, garlic and coriander root served with plum sauce
$6.90
Contact Us
Find Us
Shop 3/506-508 Miller Street, Cammeray, 2062
Opening Hours
Monday
11:00 AM - 10:00 PM
Tuesday
11:00 AM - 10:00 PM
Wednesday
11:00 AM - 10:00 PM
Thursday
11:00 AM - 10:00 PM
Friday
11:00 AM - 10:00 PM
Saturday
11:00 AM - 10:00 PM
Sunday
11:00 AM - 10:00 PM
Please note, delivery times may vary.
We deliver to
2060 North Sydney, 2060 Waverton, 2062 Cammeray, 2063 Northbridge, 2064 Artarmon, 2065 Crows Nest, 2065 Greenwich, 2065 Naremburn, 2065 Wollstonecraft, 2066 Lane Cove, 2066 Longueville, 2066 Northwood, 2066 Riverview, 2068 Castlecrag, 2068 Middle Cove, 2068 North Willoughby, 2068 Willoughby, 2068 Willoughby East, 2069 Castle Cove, 2069 Roseville, 2069 Roseville Chase